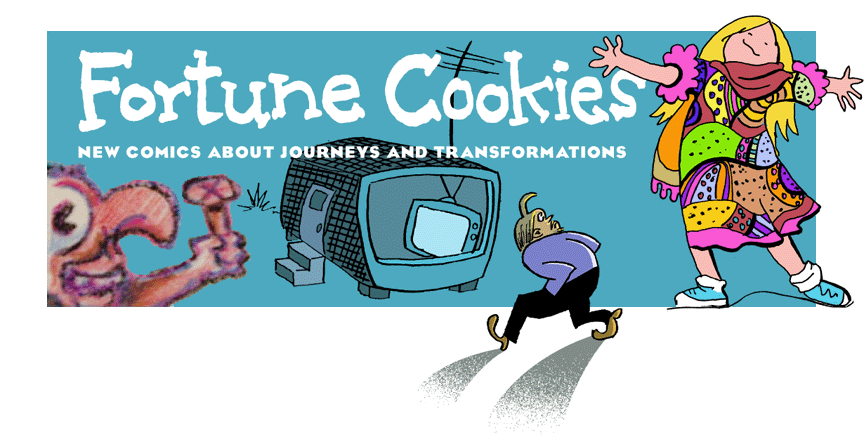 A mostly nonfiction anthology
48 pages; saddlestitch binding; price: $4.50

CONTENTS

FROM THE INTRO

THE COVER

ORDERING INFO

Amaze your friends! Learn to sew! Visit the stars! Rearrange Beatles songs! All these journeys and more are vicariously yours in the pages of Fortune Cookies, a collection of comics about what it means to seek your fortune. Nick Thorkelson's "A Better World Is Possible" and Susan Rice's "Theatre On Wheels" give personal accounts of the westward migrations of the '60s and '70s, while shorter pieces by Thorkelson, Rice, Leonard Rifas and Jen Flores fill in the blanks concerning all the hopeful and depressing and ridiculous bits and pieces of that fortune-seeking itch and scratch.

A BETTER WORLD IS POSSIBLE

by Nick Thorkelson
A revolutionary winter (1969-70) in San Francisco; first installment (click for sample page)
this
VISITING THE HOME OF A STAR IN LOS ANGELES by Sue Rice
The rainbow over George Herriman's house
this
SEWING SEEDS by Jen Flores
All good girls must learn to sew (click for sample page)
this
THE ART CLASS by Nick Thorkelson
Ned studies painting with his idol
this
MEMORY OF A BYGONE CITY by Sue Rice
Will the new New Orleans be lifelike?
this
MY EARLIEST MEMORIES by Leonard Rifas
If you could carry only one memory into eternity (click for sample page)
this
ACRES OF CLAMS adapted by Nick Thorkelson
Comics version of the old song against ambition
this
THEATRE ON WHEELS by Sue Rice
A bus divided between sentimental sin and deranged virtue; first installment (click for sample page)
this
SOUTH OF THE BORDER by Nick Thorkelson
A folksong generation gap
this
ON MY WAY TO CARTHAGE by Nick Thorkelson
An aging biker gets busted
this
LETTERS
By Leonard Rifas, Karen Karin Rosenberg, Rena Lindstrom and Cynthia Bargar
this
FLEMMY HARRUMPHS PAYS A VISIT TO THE OLD MAN by Nick Thorkelson
Some things you never get used to (click to view)

When we decided to call this collection "Fortune Cookies," we were thinking along the lines of all those intrepid folk heroes like Puss 'n Boots or Jack & the Beanstalk, recklessly "seeking their fortunes" whatever that may entail.
When we set out on our journeys (the stories here are mostly autobiographical), it is not as if we were pursuing a concrete vision of the future, but we understood that we had to leave our various comfort zones if we were going to find whatever freedom or pleasure or revelation was out there for us.
Why "cookies"? The cookie means that the journey is the fortune -- it's the sweet part. As for the actual destination, the person you become after all is said and done, that's OK too (or not). In one of his early comics called "I Wanna Go Home," Robert Crumb put it like this: "You're probably going to get there anyway."

Here is the cover of Fortune Cookies, along with preliminary drawings: a jamming/brainstorming sketch in color by Sue and Nick, and several ink-and-wash sketches by Nick. The ink-and-wash ones are all pastiches of old comic book and pulp magazine covers from the 1930s-60s.


We encourage you to have your local comics store order copies from us or, if you would like to have our fabulous comic mailed to you, please send a check for $4.50 per copy plus postage ($2.00 for 1-5 copies, $5 for 6 or more) to
Fortune Cookies
c/o Susan Rice
82 Brooking Street
Medford, MA 02155
Email: nthork@nickthorkelson.com or ricetoons@yahoo.com
Return to Thorkelson Graphics.