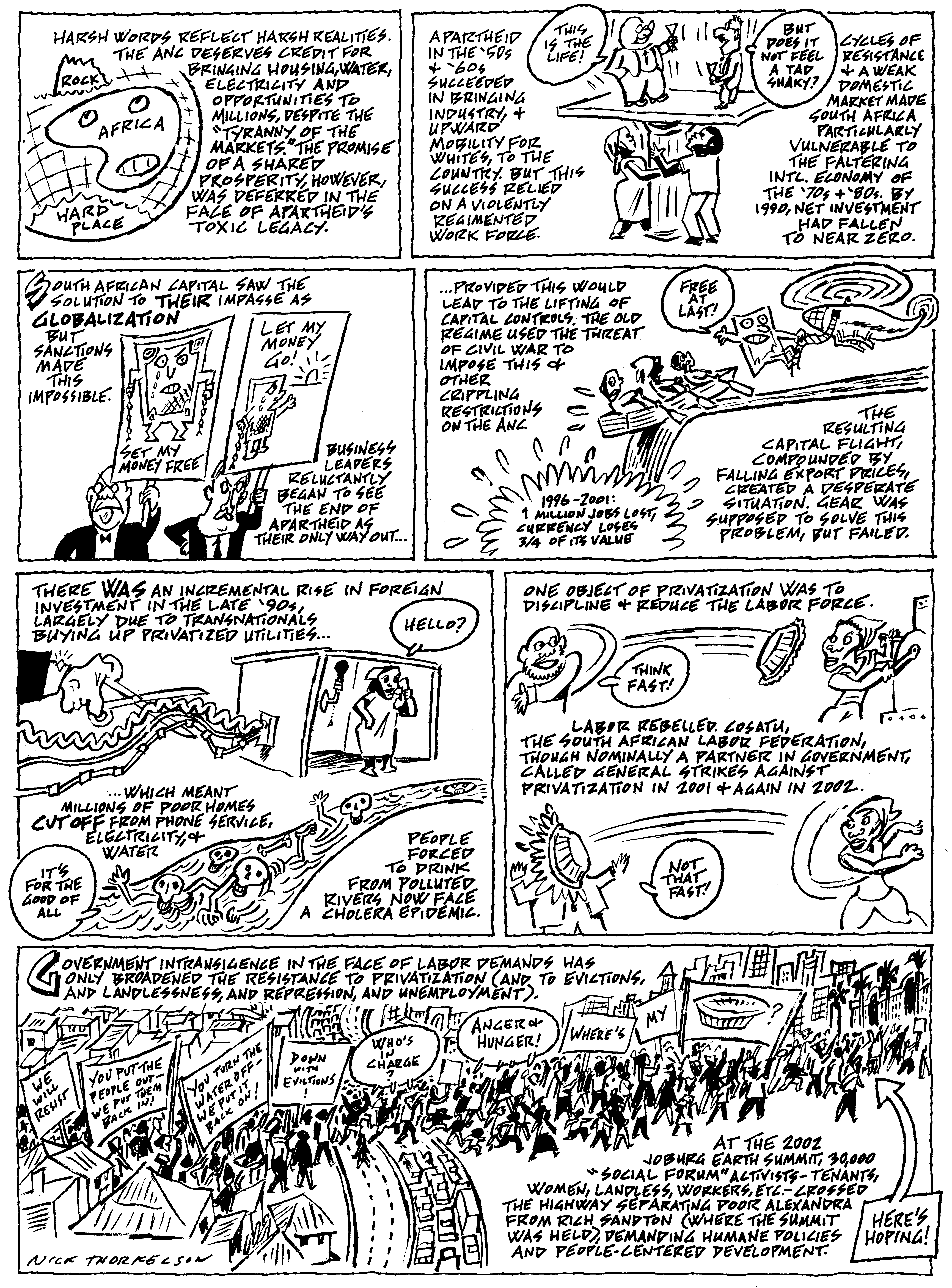 This comic was done for the March/April 2003 issue of Dollars & Sense magazine. It is part of a series of 2-page comics about economic globalization and neoliberalism. To see the rest of the series, go to The Comic Strip of Neoliberalism. I have had the indispensable assistance of Dollars & Sense editor Alejandro Reuss in shaping this project. On this particular installment I am also indebted to Patrick Bond, a professor at the University of Witwatersrand in Johannesburg, whose comments on an early draft were extremely helpful and whose prolific writings on this subject provided me with a roadmap for my research; Hein Marais, whose book South Africa: Limits to Change spelled out the "toxic legacy" of apartheid; Elsa Auerbach, a longtime South Africa activist who teaches English at UMass Boston, and who turned me on to Patrick Bond; and to journalist/author Dan Connell who directed me to Hein Marais's work and who kindly gave me an earful on this subject one afternoon last year (Dan's newest book, Rethinking Revolution, has several chapters on post-apartheid South Africa).
I am very interested in hearing from people with knowledge of this subject. Drop me a line.
For a PDF version of the above comic, click here. (Cartoons in PDF format don't look so good on a computer monitor but look much better when printed than the version above.) If you can't see the PDF, you may need to download Acrobat Reader from the Adobe website.
Return to The Comic Strip of Neoliberalism.
Return to Thorkelson Graphics.